Branson: Festival of Lights All Coach Tour
Highlights
All Breakfasts (many continentals) & Dinners
Silver Dollar City Music Park
Branson City Tour
Daniel O'Donnell
Presley's Country Jubilee Show 
Hughes Brother
Showboat Branson Belle
"Miracle of Christmas" at Sight & Sound Theater
Clay Cooper's Country Music Express
Million Dollar Quartet
The Urban Cowboy Reunion with Johnny Lee and Mickey Gilley
The Beautiful Ozark Mountains
5 nights in Branson
Featured Video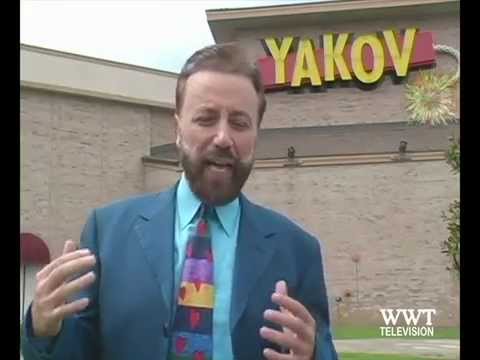 Yakov Loves WestWorld Tours!
Yakov did an ad for us awhile back and while we don't have his show in our lineup this year it can be done as an option.
Other Videos
Itinerary
Select a day for more info
Day 1

Saskatchewan Passengers

Day 1

Saskatchewan Passengers

Passengers from Saskatoon travel to Regina and south over night in Devil's Lake, ND

Day 2

Devil's Lake to Omaha

Day 2

Devil's Lake to Omaha

Travel day as we work our way south.

Day 3

Omaha to Branson, MO

Day 3

Omaha to Branson, MO

We make our way into the beautiful Ozark Mountains and our home for the next five nights, Branson.

Day 4

Branson

Day 4

Branson

Today we will start with a City Tour that includes the College of the Ozarks. This afternoon we will see Daniel O'Donnell. He is without a doubt the most successful easy listening-country entertainer in Great Britain and Ireland. He teams up with Mary Duff, Irelands' top female vocalist, to give you a blend of traditional Irish ballads, country favorites, and traditional gospel with an Irish twist! Tonight's show is the Million Dollar Quartet Evening Show. Inspired by an incredible true story, Million Dollar Quartet relives one magical night—an impromptu jam session with Elvis Presley, Johnny Cash, Jerry Lee Lewis, and Carl Perkins. Together, on this one night only, these four music icons created sounds that would span decades and generations and became forever known as the Million Dollar Quartet.

Day 5

Branson

Day 5

Branson

Enjoy a free morning for optional shows or shopping. This afternoon we will visit the Silver Dollar City Theme Park. The Christmas lights here are world famous and the food is interesting too! The Christmas tree is a perfect meeting point if you get separated from your companions. Our dinner is scheduled at Silver Dollar City this evening. We will close out the evening with the Urban Cowboy Reunion Evening Show with Johnny Lee and Mickey Gilley. Join Mickey Gilley and Johnny Lee for one of the most unforgettable concert experiences in Branson, MO; join this fantastic duo as they bring the Urban Cowboy Reunion Show to the Ozarks. With the great music of both Gilley and Lee, the show is sure to be a memorable one.

Day 6

Branson

Day 6

Branson

A free morning for some rest or maybe a bit of shopping. This afternoon we will see the Hughes Brother's Matinee Show. These five handsome and talented brothers will treat you to a show filled with a variety of music from pop, rock and country to Broadway, gospel and hip hop as they dance in unison with grace and style that leaves audiences breathless. After dinner tonight, The Presley's Country Jubilee Show. You're invited to come on in, pull up a seat and immerse yourself in an evening of country favourites, Southern Gospel and hilarious Ozarks comedy.

Day 7

Branson

Day 7

Branson

Our morning show today will be Clay Cooper's Country Music Express Morning Show. Clay Cooper's Country Express has something for everyone! Enjoy live music, singing, dancing, hysterical comedy and more! From George Jones to Hunter Hayes, from the Doobie Brothers to Bruno Mars, Clay and his cast of 24 veteran entertainers will bring you a high-energy performance filled with variety – country, gospel, patriotic and more! This afternoon we take a fabulous Dinner Cruise on the showboat Branson Belle. The spectacular Christmas Show blends contemporary and traditional holiday melodies with magic, dance and hilarious comedy to create an unforgettable experience. To close out the evening we are off to the Sight and Sound Theater to see their production of "Miracle of Christmas". Witness the story that is central to the season, brought to life with high drama, awe-inspiring special effects and live animals. Rejoice with your whole family as the true meaning of Christmas unfolds right before your eyes.

Day 8

Branson to St. Joseph, MO

Day 8

Branson to St. Joseph, MO

As we leave Branson and the Ozarks behind, we are left with many fond memories.

Day 9

St. Joseph to Watertown, SD

Day 9

St. Joseph to Watertown, SD

After a day's travelling and sightseeing, we'll stop overnight in Watertown, South Dakota. This evening join your tour director and driver for a WestWorld Tours Farewell Dinner and show (you may even find yourself assisting with the entertainment).

Day 10

Watertown to Minot

Day 10

Watertown to Minot

From Watertown we continue our journey North and our last overnight in Minot.

Day 11

Minot to Saskatchewan

Day 11

Minot to Saskatchewan

This is the last day of your tour as our tour makes their way to Saskatchewan. After a Duty Free & Customs stop at North Portal the coach will go north to Regina and Saskatoon.