Alaska and The Yukon Cruise Tour
Highlights
Seven nights aboard the 'Norwegian Jewel'
White Pass & Yukon Route Railroad
Riverboat Discovery including lunch
Salmon Bake Dinner
Golden Heart Revue
Watson Lake Signpost Forest
Gold Panning
Diamond Tooth Gerties
The "Midnight Dome"
Fort Nelson Museum
City Tours of Anchorage, Fairbanks & Dawson City
Farewell Dinner
WestWorld Picnics
Featured Video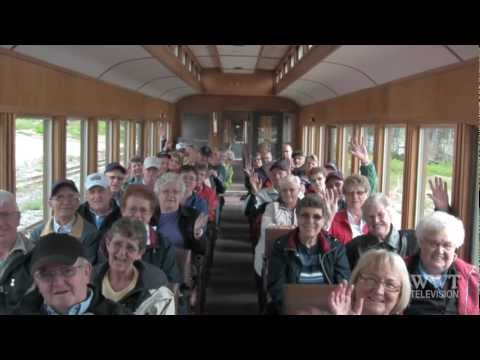 Alaska & Yukon Cruise and Coach Tour
Koral Carpentier tells us about WestWorld Tours Cruise and Coach tour to Alaska and the Yukon.
Other Videos
Links
Norwegian Jewel

As the namesake of our "Jewel Class" cruise ships, you can bet she's got it all. As well as offering some of the largest suites at sea, there are staterooms to accommodate every style. When it comes to entertainment, this ship's filled with excitement: 16 dining options, 15 bars and nightclubs and that's just the beginning.

The Riverboat Discovery

Welcome aboard! Your three hour cruise will take you into the heart of Alaska and the heart of a family who has made the rivers of Alaska a way of life for four generations. You will see a bush floatplane taking off alongside a "bush" style runway, visit the home and kennels of the late four-time Iditarod winner Susan Butcher, and gain insight into the ancient Athabascan Indian culture. Alaskan Native guides who have worked and lived in Alaska will take you on a personalized tour of the Chena Indian Village.

Alaska Salmon Bake & Golden Heart Revue

Looking for a relaxed dinner after a busy day in Fairbanks? Join us at the Alaska Salmon Bake where we feature a nightly All-You-Care-to-Eat menu of Wood Grilled Salmon, Beer Battered Cod, and Slow Roasted Prime Rib. Why settle for just one when you can try all three in a beautiful, historic Alaskan setting? All the while as you enjoy the Palace Theatre's GOLDEN HEART REVIEW, a hilarious musical comedy that will leave you laughing, and a bit wiser about life in the last frontier.