Alaska & The Yukon All Coach
Highlights
Day Cruise of Prince William Sound
White Pass & Yukon Route Railroad
Golden Heart Revue
Riverboat Discovery including Lunch
Salmon Bake Dinner
Watson Lake Signpost Forest
Gold Panning
Diamond Tooth Gerties
The "Midnight Dome"
Fort Nelson Museum
Cassiar Highway
City Tours
Farewell Dinner
WestWorld Picnics
Featured Video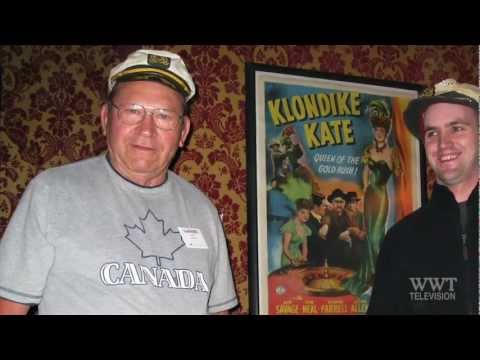 Sourtoe Cocktail Club
Koral Carpentier explains about the Sourtoe Cocktail and how many of passengers on our Alaska Tours join this unique club.
Other Videos
Links
Alaska Salmon Bake & Golden Heart Revue

Looking for a relaxed dinner after a busy day in Fairbanks? Join us at the Alaska Salmon Bake where we feature a nightly All-You-Care-to-Eat menu of Wood Grilled Salmon, Beer Battered Cod, and Slow Roasted Prime Rib. Why settle for just one when you can try all three in a beautiful, historic Alaskan setting? All the while as you enjoy the Palace Theatre's GOLDEN HEART REVIEW, a hilarious musical comedy that will leave you laughing, and a bit wiser about life in the last frontier.

White Pass & Yukon Route Railroad

Built in 1898 during the Klondike Gold Rush, this narrow gauge railroad is an International Historic Civil Engineering Landmark, a designation shared with the Panama Canal, the Eiffel Tower and the Statue of Liberty. The WP&YR railway was considered an impossible task but it was literally blasted through coastal mountains in only 26 months. The $10 million project was the product of British financing, American engineering and Canadian contracting. Tens of thousands of men and 450 tons of explosives overcame harsh and challenging climate and geography to create "the railway built of gold."

The Riverboat Discovery

Welcome aboard! Your three hour cruise will take you into the heart of Alaska and the heart of a family who has made the rivers of Alaska a way of life for four generations. You will see a bush float plane taking off alongside a "bush" style runway, visit the home and kennels of the late four-time Iditarod winner Susan Butcher, and gain insight into the ancient Athabascan Indian culture. Alaskan Native guides who have worked and lived in Alaska will take you on a personalized tour of the Chena Indian Village.